With the growing acceptability for finding love through online dating, personal ads, and many other forms of outside help, it is no surprise that a television show about a professional matchmaker would soon be in the works. Enter the A&E Network and their new show, Confessions of a Matchmaker.
The unscripted, half-hour series follows Patti Novak and her all-in-the-family-team in the wilds of Buffalo, New York as they set about finding perfect matches for their many clients. It is surprising, and more than a little encouraging, to see Novak making her matches not through cold and clinical computer programs (á la eHarmony), but by sitting down with each file and going with her years of tested experience and, believe it or not, her gut.
In the first episode we meet Charlie, a former Mr. Nude Universe who has deplorable and disgusting table manners, and Ashley, a barely-out-of-college woman who tans too much and wears inches of make-up. Novak ushers them through a harsh reality check ("That's disgusting," she admonishes Charlie at a mock dinner), pre-date advice, and reports from their respective dates.
The singles depicted are to be either congratulated or committed for their willingness to have their experiences taped, but these stories do make for interesting television – even if it is at times physically uncomfortable to watch. While witnessing Ashley drink her way through a disaster of a first date is cringe-worthy, seeing Charlie power-walk in the mall is both accessible and endearing.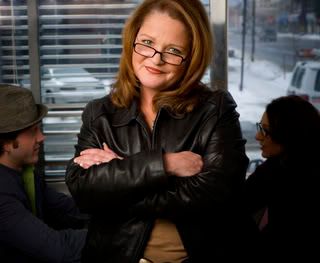 The crux of the show, though, is Novak's candid honesty. She pulls no punches and spares no feelings. It is also what makes this quality reality television. She manages to walk the infinitely fine line between sincerity and cruelty. With such insights into her clients' lives it is no wonder she has a fantastic track record as a matchmaker.
An engaging narrator, Patti Novak will worm her way quickly into the hearts of reality television fans everywhere. And for those of them who are single…well, they just might learn a thing or two.
Confessions of a Matchmaker premiers on Saturday, June 16th with back to back episodes at 10:00 and 10:30pm.